If you are looking for a office cleaning business, then DT Cleaning & Maintainence Services are the choice to pick. Just as with all our cleaning services, we believe that only the best is good enough. We clean offices in Clanfield, Horndean, Waterlooville, Cowplain, Denmead and Purbrook.
Desks Polished
Wastebins Emptied
Carpets Hoovered
Toilets Cleaned
Staff Areas Cleaned
Attention to detail
DT Cleaning & Maintainence Services have provided on-going cleaning and maintenance support options at several of our Public Houses. Doug and Trace, plus their team are professionals who are trustworthy and efficient at all aspects of cleaning at our commercial units. Highly recommended.

K. Barker - Chichester, West Sussex.
Window Cleaning
4 TO 6 WEEKLY
Private customers generally will have their exterior windows cleaned once every 4 to 6 weeks. We can also offer flexible interior window cleaning for clients, and this is done on a need by needs basis. Your price includes cleaning down of window frames, sills and door panelling. Every job is done just as we would expect it, if we were paying for the job ourselves!
Commercial Clients would normally expect window cleaning either weekly, fortnightly or 4 weekly, which we do already for commercial business users.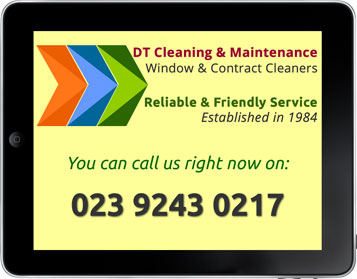 Ground Floor Only
NO LADDERS!
We specialise in ground level properties only. Be these office buildings, restaurants, banks, schools and churches - but we no longer offer window cleaning for properties requiring ladder access. After many years of climbing up and down ladders, we felt the time had to come to remain safe and sound. We will be happy to recommend other cleaning companies should you have a house, or multiple floor building.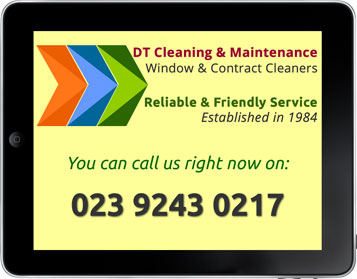 Excellent Customer Service
IMPORTANT!
Doug has 35 years of experience in window cleaning. He learnt the trade from respected cleaners in those years, and knows that excellent customer service is the key to any successful business. This principle is instilled to all DT Cleaning & Maintainence Services staff and as a result, customers are happy to retain this service.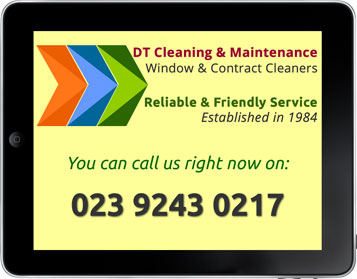 Request A Cleaning Quote
Contact DT Cleaning & Maintenance Services for your no obligation cleaning estimate right now.....
Free Quotation